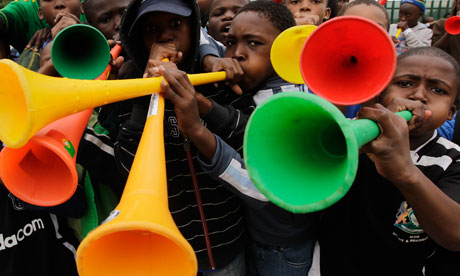 If you have tuned in to watch a World Cup game since the competition started last Friday, you may have thought something was wrong with the sound on your TV, or that there was a massive beehive behind the screen. Actually what you hear is the sound of thousands of
Vuvuzelas
, which are plastic horns used in stadiums in South Africa. The sound that comes out of a Vuvuzela is typically a B-flat drone at 130 decibels (a chain-saw is approximately 100 decibels).
One of the things that can make soccer games fun is the chanting- in some countries, such as England, singing
creative, funny and self-deprecating songs
is an integral part of the game. Collective cheering for a goal, or gasping at a close miss, are critical to the atmosphere. In South Africa right now however, it is impossible to hear anything but the monotonic sound of thousands of Vuvuzelas. The sound is terribly annoying for some, who feel it is destroying the atmosphere. For others, this is part of South Africa's culture, so should not be tampered with.
FIFA
- the governing body for soccer- has received so many complaints from fans at stadiums, those watching on TV, and from TV commentators, that they are now considering banning the instrument. Vuvuzelas are known to have caused permanent hearing loss, and fans are even being urged to wear earplugs.
Should people go with the flow or does South Africa have a responsibility to its guests?